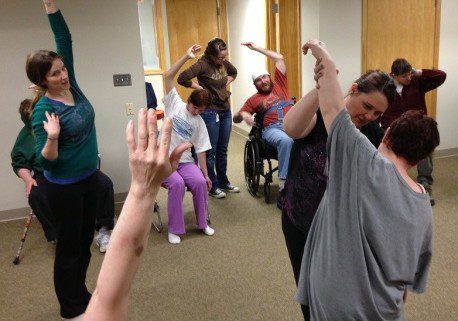 "For the past month we have been taking Jack and Bryan to chair yoga.  They enjoy going because it gets them out of the house, gives them time to socialize, and it has many health benefits for them.  The health benefits are:
It helps with their range of motion (ROM) for the day.
It helps them concentrate on their breathing.
It also helps with strengthening their muscles.
I think that it would be a great idea to keep this going.  Since we started, Jack and Bryan have started couning the days until next Tuesday when they can go again."
                                                         ~ Jon S., RSI Staff
Tuesday, April 23, 2013 marked the first day of RSI's chair yoga classes.  These classes are adapted for all bodies, including those with limited mobility and physical disabilities. 
Classes have a non-intimidating, relaxing atmosphere filled with lots of laughter and smiling. 
First we get people sitting up well……   and then we get them breathing.
 This helps people get relaxed
 And then we get moving
 In the words of the participants:
         "You saved me a trip to the chiropractor!"
                                       ~ Anonymous
         "Very fun. I look forward to going each week.  I like it." 
                                                   ~ Jack
 Molly McManus, co-owner of Duluth's premier yoga school, Yoga North, and Teri Sanders, of RSI and Yoga North teach the class.  Both Molly and Teri received training on adapting yoga for physical disabilities by Matt Sanford at MindBody Solutions in Minnetonka, MN.
First and foremost, we'd like to thank all of the people who come on Tuesdays from 4 – 5 pm to participate in the yoga classes – it is the clients who come that make it fun for us to share this gift of yoga!
Also, big thanks to the staff that assist with getting the participants there and jumping in to give hands-on assistance while the class is going.  We could not do it without these staff!
Finally, we'd like to thank our donors, whose financial support helps to make this affordable to the people who participate.  The following people and organizations have invested in helping to increase the wellness of members of our community.
RSI Board of Directors
Shawn Neumann
Daugherty Appliance
RSI Health Services Team (for 'Pay It Forward' funds)

Pioneer National Bank
Essential Medical Equipment
Yoga North
Brett Ewald and Jerimy Hallsten (for photography)
Namaste,
Molly and Teri
"I think chair yoga was a good thing to do and I think you should continue doing it with other people because it helped me."   ~ Jean
http://residentialservices.org/wp-content/uploads/2014/11/Yoga-7.jpg
405
458
bennybebop
/wp-content/uploads/2013/04/RSI_Web_Logo-300x137.png
bennybebop
2014-11-05 20:05:44
2014-11-18 20:15:27
Adaptive Yoga