Visit the link below to view our current employment openings. You can apply online by creating an account on our employment page and filling out the required information. You can also fill out a paper application in-person at any of our offices or email your resume to misty.quinn@residentialservices.org.

Click here to download our paper application

Any questions with the application process can be directed to our Recruiter at (218)-740-7625.

Note: Make sure you are using the most current version of your internet browser when applying online.
---
Join us at our Duluth office on Thursday, July 21st for our hiring fair! 
Info sessions and on the spot interviews all day from 9am-5pm
Part-time and full-time positions working with adults and children with disabilities in home settings. Flexible, rewarding, and an excellent experience builder! All shifts available.
No experience necessary, must be 18+ wtih a valid drivers license.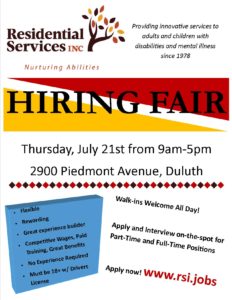 Click photo to enlarge
---
RSI is an equal opportunity employer. Applicants will receive consideration for employment regardless of race, color, creed, religion, national origin, sex, sexual orientation, disability, age, marital status, or status with regard to public assistance.