It's National Nurses Week!
Written by: Claire Farmer-Lies, Marketing and Communications Specialist
National Nurses Week starts today and goes til May 12th!
We are so grateful for our team of talented RNs and LPNs, and the crucial support they provide to our homes, the people we support, and to all of our direct-care employees.
An excerpt from a letter to our Health Services team, written by Executive Director Jon Nelson:
May 6, 2020 is National Nurses Day, part of National Nurses Week that runs through May 12, 2020. May 12 is the birthday of Florence Nightingale. If you do not know who she is you should Google her. Especially because our very own Health Services Director, Mary Hallsten, is nominated for the Florence award this year. This award recognizes the nurses in our region who best represents the traits of Florence Nightingale – Empathy, Innovation, and Mission.
When Mary learned of her nomination, she was quick to point out that any success she has had is due to the wonderful group of nurses at RSI.
RSI's nurses had us prepared for dealing with something like COVID-19 because of all the training, protocols, and support mechanisms they have put in place. Their focus on the details of proper handwashing, cleaning and sanitation, use of protective equipment, and monitoring people for signs and symptoms, has put us in a good position to manage the concerns that come with COVID-19. None of us should take this for granted. Having nurses available to support us during this crisis is making the fear and anxiety that comes with COVID-19 more manageable.
Please join me in thanking RSI's nurses for everything they do every day at RSI. For the caring and compassion they bring to their jobs and for their commitment to supporting anyone who wants to live more independently at RSI. Please extend a word of appreciation to any nurse you see this week and let them know you recognize the value they bring to RSI.
Thank you to all RSI nurses, you deserve the recognition.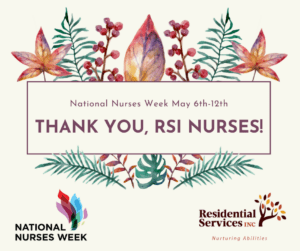 /wp-content/uploads/2013/04/RSI_Web_Logo-300x137.png
0
0
Residential Services Inc
/wp-content/uploads/2013/04/RSI_Web_Logo-300x137.png
Residential Services Inc
2020-05-06 17:59:01
2020-05-07 21:08:42
It's National Nurses Week!