The Power of Reconnection
Written by: Jean French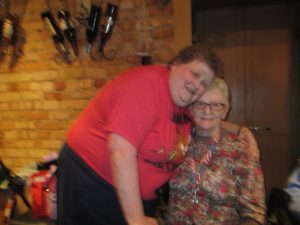 It had been nearly twenty years since my mom had decided to stop talking to me. It was the hardest and most depressing time of my life. I wanted to end my life, as I felt that I had nothing to live for. I lost everything when I lost her. She was my world, and when she left me, it broke my heart.
I was harming myself nearly every day because that was the only way I could cope with the possibility of never seeing her again. I didn't care as much for my other family members, but I missed the connection with my mom so much. I thought that she might hate me, and at the time, I believed that she did. Every time I went out in public, I would look for her. When I didn't find her, I would come back to the home and self-harm. I would hurt myself, and somehow it made me feel better.
On August 30, 2018, I decided to send her a note on her 80th birthday. I sent her a text message, as I had done so many times before, but she answered me this time. She thanked me for my wishes, and we exchanged a series of texts back and forth. Before finishing our conversation, I asked her if she would give me a call when she got home. I gave her my phone number and was more hopeful than ever that we could rekindle our love and connection.
The next Monday, she called me and we talked for a while. Before we hung up, I asked her if she might like to meet sometime for lunch. She said yes, and for the very first time in a long time, I had a smile on my face that lasted days. I couldn't stop smiling and crying tears of joy. We chose to meet at Sammy's Pizza in the West Duluth neighborhood. When we saw each other, we immediately ran (with our walkers) to each other and exchanged a much-needed embrace. I couldn't hold back the tears, as we were now mother and daughter again.
When other family members told her not to become involved with me again, she didn't listen. I was just so happy that she wanted to be back in my life again. Since we reunited, I would spend every weekend with her at her assisted living facility. I couldn't be more happy, and I have stopped hurting myself. In fact, it has been over a year since I have harmed myself. I love my mom and I now know that she loves me back.  
In this time of crisis, we can't see each other. But I call her at least once a day, and she is happy to hear from me. I call her to start each day and say good morning, and in the afternoon to see how she is doing.  I finish each day by saying good night. This journey has given me a new perspective on the power of patience and forgiveness. Perhaps the one thing I wasn't prepared for is the power to forgive myself. It's made such a difference in how I interact with people. Life is just too short!
/wp-content/uploads/2013/04/RSI_Web_Logo-300x137.png
0
0
Residential Services Inc
/wp-content/uploads/2013/04/RSI_Web_Logo-300x137.png
Residential Services Inc
2020-04-16 15:43:56
2020-04-16 15:43:56
The Power of Reconnection